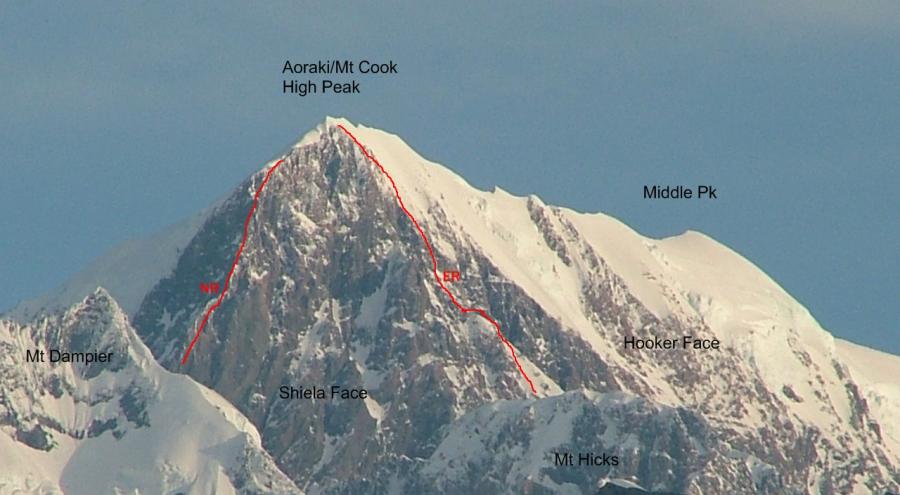 Reference
Title
Grade
Length
Quality
Bolts
Gone
Natural pro
Link to edit content
Aoraki/Mount Cook Grand Traverse
4-

A 'GT' involves traversing Low, Middle and High Peaks (or vice versa) of Aoraki/Mt Cook. The section from Low Peak to Porter Col involves some rock, whereas the rest of the traverse is ice (and this can be hard, especially in winter). The ridge line from Low to High Peak is New Zealand's highest and most exposed mile providing the most spectacular and famous traverse in the Southern Alps. In its day it was regarded as one of the most impressive achievements in world mountaineering.

Freda Du Faur, Peter Graham, Darby Thomson, Jan 1913.

Zurbriggen Ridge
3+

A classic Mt Cook climb. Ascend snow slopes on the edge of the East Face to gain the ridge 400m up, then up a rock step of poor rock (in certain conditions this can be sidled on the East Face). Above here follow snow slopes and the occasional rock pitch to gain the Summit Rocks where the standard Linda Glacier route is joined. Then ascend the north-east arête (commonly referred to as the 'ice cap') to the summit. The first three pitches of this route are the steepest, after which it relents a little.

Mattias Zurbriggen (with John Adamson to 3200m), Mar 1895.

E
Endeavour
6-
460m
2

The arête left of Resolution. A long series of arête pitches on great rock.

Stuart Holloway, Richard Bassett-Smith, Dec 2012

R
Resolution
14,15,14,16,18,18,12,16,17,13,6 20
480m
3

Resolution climbs the big corner running all the way up buttress from the base of the Bowie Couloir to the crest of Zurbriggen's Ridge. 480m of rock to the crest climbed in 11 pitches, crux 19/20, then continue across the snow arete and up Zurbriggen's; NZ 6. High quality rock and climbing on a big mountain route—strongly recommended. This corner line would be a spectacularly good mixed route and the whole buttress offers excellent scope for further climbing. Start: Below the roof and hanging corner just left of the right arete of the buttress. Gear: Approx. 7 cams finger to fist, a full set of nuts, 1KB & 1LA (optional), draws, full alpine kit to continue up mountain or double ropes and extensive tat to rappel buttress.

#
Ewbank
Alpine (Technical)
Alpine (Commitment)
Alpine (Mt Cook)
Aid
Water Ice
Mixed
Boulder (Hueco)
Length
Bolts
Trad
1
14
30

m

Yes

Up hanging corner to small alcove of dark rock.

2
15
30

m

Yes

Work up red wall and arete to climb hanging corner on right to big ledge. (Pitches 1 and 2 could be combined.)

3
14
60

m

Yes

Climb right hand corner then continue up ledges and
walls left of the main corner

4
16
50

m

Yes

Slabs and walls of pink rock left of the corner. Belay near the arete below a steep wall.

5
18
30

m

Yes

Traverse up and right towards corner. Climb overhang into groove left of main corner (which is blocked by loose flakes).

6
18
60

m

Yes

Up easy ground then left below roof in main corner into
subsidiary corner (snow). Weave up pink wall (~20m) with cracks to
cross arete and make slopey traverse back to main corner. Belay off hand and fist size cams.

7
12
90

m

Yes

Up nice corner, then long chimney; finally scramble to
belay below steepening in corner. (There are potential belays in this pitch but they are not very sheltered.)

8
16
30

m

Yes

Climb corner (or wall on right—corner may be wet) to
awkward belay below next overhang. Piton high on left. (This belay is dry but the ropes will get wet—best to combine pitches 8 and 9 to
get past wet section.)

9
17
30

m

Yes

The Waterfall pitch—climb overhang using chockstones
and continue up corner and right wall to a stance on the left.

10
13
30

m

Yes

Up corner to gain obvious diagonal weakness heading
up across right wall. Belay on flake/pedestal below smooth, steep wall
with cracks heading diagonally up left and right. (Pitches 10 and 11 could be combined.)

11
20
6
40

m

Yes

Tricky moves up right leading crack and the wall beyond to crest. Continue up easy arete of buttress to snow.

Lachie Curry, Stu Holloway 18-19 Jan 2010

PD
Pink Dream
6 20
500m

Takes the arete R of Resolution on excellent rock.

Steve Monks, Nicki Sunderland 1995

Bowie Couloir
4-

Climb the prominent gully between the Bowie and Zurbriggen Ridges, following the right variation couloir at the top. Involves steep gully climbing and some rockfall danger.

J Barry, D Nicholls, Nov 1969.

Bowie Ridge
4,4 14
2

The Lower Buttress can be climbed either from its toe in the Linda Glacier or just above Teichelmann's Corner (where the Linda turns towards Aoraki).

#
Ewbank
Alpine (Technical)
Alpine (Commitment)
Alpine (Mt Cook)
Aid
Water Ice
Mixed
Boulder (Hueco)
Length
Bolts
Trad
1
4
0

m

No

The Lower Buttress can be climbed either from its toe in the Linda Glacier or just above Teichelmann's Corner (where the Linda turns towards Aoraki).

2
14
4
0

m

No

The Upper Buttress can be approached from either the upper Linda Glacier or from a subsidiary glacier between Zurbriggen and Bowie ridges and up a gully. The upper buttress has about nine pitches, consistently angled (crux 14), of good rock. Then traverse a ridge with gendarmes and some loose rock to join the top of Zurbriggen Ridge at the upper Linda shelf.

Lower Buttress, P Conaghan, R Cox, Feb 1962. Upper Buttress, Dick Irwin, Hamish MacInnes, Peter Robinson, Feb 1956.

Linda Glacier
3

While this is the easiest and most climbed route on Aoraki/Mount Cook, it is also one of the most dangerous, being menaced by icecliffs. The lower glacier is often heavily crevassed and there is considerable danger from ice avalanches off the right (Divide) slopes. At the head of the glacier under the Gunbarrel (the prominent and active icecliffs of the Upper Linda), traverse left very quickly across the Linda Shelf to join Zurbriggen Ridge below the Summit Rocks (these provide access to the summit, which is over 400m above). A 150m gully that runs directly from the Linda Shelf to the start of the Summit Rocks is a popular alternative to traversing to the Zurbriggen junction. Climb the rocks - there is usually a series of ice gullies running up through the rocks which make for easier climbing. Late in the season parties may need to venture further toward the East Face. Once above the Summit Rocks follow the north-east ice cap to the summit. The easiest way to get onto the summit ridge is to traverse to the west, overlooking the North Ridge and Sheila Face, and climb a short step to follow a sustrugi filled ramp that leads to the top. Due to the 1991 avalanche the very top is probably not a smart place to stand and climbers are asked to respect the wishes of Ngai Tahu by not standing on the very top. The Linda Glacier is the most common descent route from Aoraki/Mount Cook. Most parties use two abseils (100m) when descending the Summit Rocks. As a result there can be a 'Christmas tree' of abandoned slings and other assorted anchors in the rock and ice. Check these thoroughly before using them for abseiling. There have been numerous falls on this part of the route. As a general rule, ascents of the 'Linda' take anywhere from 15-18hrs or more depending on conditions and the speed of the party. It's a big day out in any language. To make sure it's one to remember: get fit, plan, prepare and practice. If there are many parties intending to do the Linda (or Zurbriggen) - try to avoid a Summit Rocks bottleneck – and don't forget your camera. A flat section on the Bowie Ridge above Teichelmann's Corner, accessible from the Linda Glacier, provides a relatively safe bivvy spot. There is also a schrund, uphill of the Linda Shelf, which has been used for shelter.

Hugh Chambers, Jack Clarke, Jim Murphy, Hugh Wright, Feb 1912.

NR
North Ridge
4

From the upper Sheila Glacier head up the rib to the left of Fyfe's Gut - the narrow couloir directly below the saddle. It is possible to climb Fyfe's Gut but watch for dangerous stonefall. The route comes out above Green Saddle. Then up three prominent steps on the North ridge, the last and more difficult 'Beare Step' being turned via either a steep hand traverse or an abseil into a couloir on the Sheila Face. It is also possible to bypass the 'Beare direct' by a rock variation on the face to the left at about Grade 14 (Whimp/Tweedie). A classic route used for the first ascent of Aoraki/Mt Cook. It was descended by at least four parties on early ascents but this is not recommended. Green Saddle can also be accessed from the Grand Plateau: Ascend to Green Saddle from the Linda Glacier (schrunds can be problem late in the season). First ascended from the Linda Glacier by Harry Ayres, Oscar Coberger, Dec 1951.

Jack Clarke, Tom Fyfe, George Graham, 25 Dec 1894.
Attribution:
Alex Palman Photo by Clayton Garbes
UUID:
9e56903e-d6aa-48b2-a0ab-840bb4f725b5