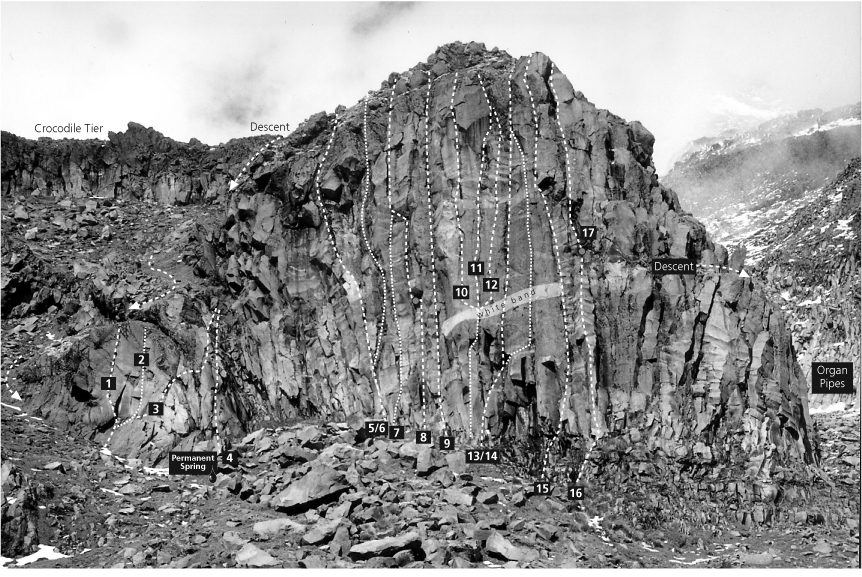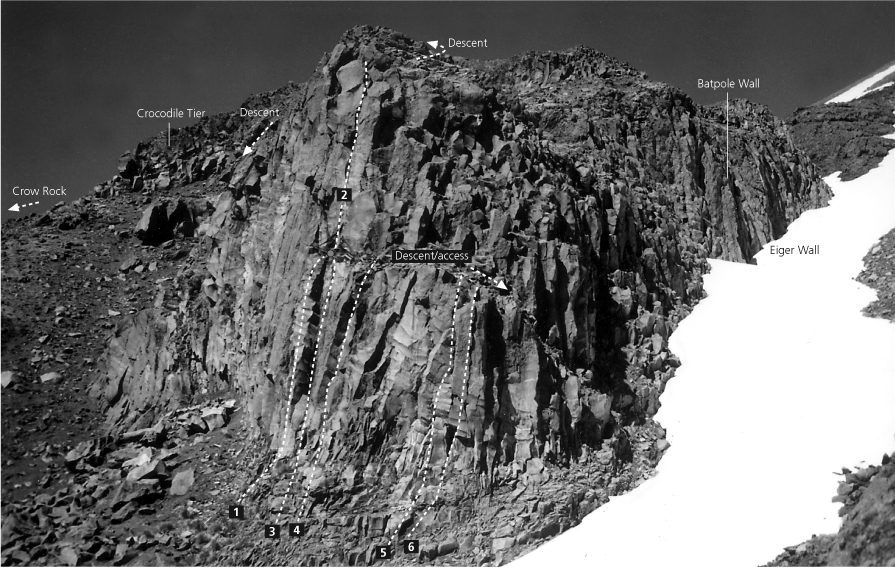 Reference
Title
Grade
Length
Quality
Bolts
Gone
Natural pro
Edit link
1
Eketahuna International Airport
18
14m

Start on gentle slabs as for Imported Talent. Climb large protruding splinter. From top of the splinter cross into, and climb the crack to your left.

Lionel Clay (second failed to follow), 10/03/85.

2
Imported Talent
18
14m

Start on the gentle slab moving slightly right, then up over two ledges to the top. Friend #1 useful near top, other protection is sparse.

Neil Parker, Chris Morris, Simon Carr, R Wood, 27/02/83.

3
Blake's Route
16
28m

Virtually a girdle transverse of the Red slabs. Start as for Imported Talent and traverse from left to right exiting vertically on their right edge.

Geoff Blake, Dave Chowdhury, 1976.

4
Aspo's Flight
17
25m

From the right slab of red rock, climb the central crack, moving out right onto a broken arête and the high point.

Dave Bolger, Glen Aspin, 26/01/99.

5
Very Silly Crack
19
56m

A rusty piton about 2.5m off the ground marks the start of this climb and Longdrop. Move into the groove by the piton then up the cracks directly above. The first pitch usually ends on a small ledge below the overhangs. Climb through these and finish up the mossy gully to a belay stance. A very good climb, even with the mossy finish.

Russell Braddock, Pete Swanson, 04/81. FFA: Nigel Shepherd, Kevin Conaglen, 04/82.

6
Longdrop
16
57m

Start by the same rusty piton as Very Silly Crack. As you gain the piton move up and right to a good ledge. It is usual to belay here. Then climb the corner above and slightly left. This becomes a groove which is followed to the top.

Kevin Conaglen, Stuart Skene, 04/81.

7
Skylarking
19
55m

Start left of Space Truckin' and move left of the crack onto slab and blocks to belay ledge. Then move right to a ledge and back left to an arête. Finish as for Space Truckin'.

Dave Bolger, Chris Prudden, 24/02/00.

8
Space Truckin'
18
57m
1

Moves up an obvious jam crack then left to a belay under a protruding block which is a distinctive feature of the crag. Then moves left up a corner, hand transverses left at obvious break, then over a bulge to the top.

Rick McGregor, Len Gillman, Brian Barlev, Rob Archibald, Easter 1975.

9
Coming Home
18
57m

Climbs the most obvious corner vee groove on the cliff. Move up a right facing corner then step right into the base of the main groove to a belay ledge on some slightly loose blocks. Second pitch follows straight up the large vee corner. An excellent quality route.

Nick Banks, Stuart Skene, Andy Harris, 21/11/81.

10
Regular Rowt
21
50m

The face to the right of Coming Home contains the next six routes While they all can actually start up the same moves (and some finish together) they do present a number of distinct and serious problems. The face is cut by three full length cracks which are finger to hand width. The next three climbs share the same start.

Neil Parker, John Pawson, Mike Rockell, 01/01/86.

11
Commodores
19
40m

Climb right facing corner past peg at 5m height to rib in white band. Follow main crack to top. Grotty exit.

Lionel Clay, 31/12/85.

12
Fingers On A Landscape
21
50m

The following four routes share the same start and finish, but take very distinct lines up the wall.

John Pawson, Mike Rockell, Neil Parker, 01/01/86.

13
Involuntary Pelvic Contractions
19
45m

Take the direct strong looking line up the middle of the wall. Climb the finger crack through the two bulges to a point below the top overhang, where a small but awkward belay is possible. The overhang goes easily. Finish up the widening crack. Take a lot of finger-sized nuts. The first ascent was climbed in two pitches with some aid and graded 22, after being allegedly stolen from Lionel Clay who had spent two days cleaning it. Two days later Lionel freed it in one pitch claiming a grade of 19.

FA Chris Morris, M Brown, M Boekholt, 09/02/85. FFA Lionel Clay 11/02/85.

14
Master Grasshopper
23
50m

A way-out-there route on the wall right of IPC. Start up IPC to above the initial overhangs. Move right then commit yourself to the wall above. Near the top, follow the left trending feature into IPC and complete the final moves of that route. Take small wires and a deep breath. Simply superb!

Mike Rockell, John Pawson, Neil Parker, 01/01/86.

15
Stranger to this Planet
18
40m

Right-most crack on the above section of the crag. A wet start leads to perfect finger locking and jamming, bridging. Protected well all the way. Name abbreviated from 'Stranger to this planet, welcome to this hole let's strap on a guitar and play some rock and roll'—title from a song by 1970s punk band The Stranglers. Note: is now revegetated.

Lionel Clay,, Warwick Humphries, 1/1/86.

16/2
Kaya
23
25m

The thin elegantly sculptured arête right of Stranger to this Planet. Take a long neck. Finished on the half-height ledge at start of The Slug Patrol.

Richard Kirk, 03/92.

17/2
The Slug Patrol's Revenge on the Thrash and Dangle Man
18
25m

This route starts from the half-height ledge which runs in from the Little Eiger-Eiger Wall corner; due to loose conditions and wet moss, traversing along this ledge is not recommended. A more stylish and interesting approach is to climb Jim Collins Hits Egmont to the belay stance on top of the large boulder—the chock stone in off-width can be used for belay. Start the climb about a metre to the left of the cited chock stone and follow the fist-crack to the top.

Lionel Clay, Richard Kirk, 17/03/85.

3
Jim Collins Hits Egmont
17
20m

The twin cracks right of the large wet corner. Start up the loose blocks past three very old in-situ pegs. Climb one of the hand-to-fist sized cracks. The original route took the right-hand crack, but better climbing and belaying is found by taking the left hand crack to the base of The Slug Patrol thus beginning a splendid sunny two-pitch climb. Jim Collins was apparently a pseudonym for Chris Morris.

Chris Morris, R Cooper, 05/04/85.

4
Desmodramatic
19
17m

The capped right facing groove just right of Jim Collins Hits Egmont. Sustained climbing with a strenuous roof at the top. Leader rested on rope during first ascent.

R Cooper, Chris Morris, Neil Parker, 07/04/85.

5
Prescription Poison
16
19m

Climb the right hand side of the site of the shattered arête which has now blown away. Note this is the same arête described as 'fairly stable' in the previous edition!! Climb to the sloping ledge. Move up corner crack, laybacking or jamming, to second ledge. Finish by climbing last 3m on a small face. Despite the demise of the much lamented arête the climb is still possible and still 16, but is not altogether safe or recommended.

Lionel Clay, Pete Swanson, 04/84.

6
Green Eggs and Ham
20
20m

Start as for Prescription Poison until sloping ledge. Traverse right into the slightly overhanging crack. Climb crack direct. The first ascensionist described this route as being particularly desperate, but not in those precise words.

Lionel Clay, Richard Kirk, 31/03/85.

Eigerwander
WI4

A short icefall often forms down the red slabs.

Iain Young, Greg Banks, 1995.